West Virginia Turnpike prepared for busy holiday travel weekend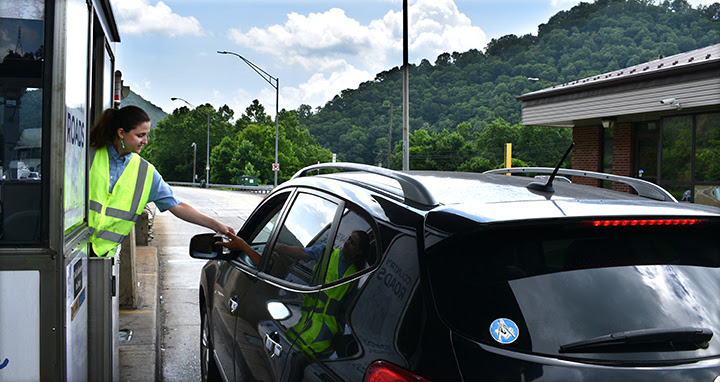 ​

As the Memorial Day holiday approaches, the West Virginia Turnpike is ready to make travel as smooth as possible this weekend for motorists. Around 600,000 vehicles are expected to travel on the turnpike today through Monday.
Steve Maynard, the West Virginia Parkways Authority Director of Tolls said there will be increased coverage of toll collectors at each plaza to ensure no backups.
"We will have all lanes open," said Maynard. "Even if a collector takes a break, there is another collector there to take over. All lanes will be open every day."
The increase of coverage begins today and runs until Monday, May 29, 2023. Maynard expects between 125,000 and 130,000 vehicles to pass through the West Virginia Turnpike today and another 146,000 to 153,000 vehicles on Friday, May 26, 2023.
The forecast for Saturday, May 27, 2023 on the West Virginia Turnpike is between 110,000 travelers and 115,000 travelers while Sunday, May 28, 2023 is forecasted to be the lowest travel day of the holiday weekend at 85,000 to 90,000 vehicles. Monday, Memorial Day, is expected to mirror today's totals.
There will be at least one E-ZPass lane northbound and at least one E-ZPass lane southbound at each of the three plazas. Maynard said the West Virginia Turnpike also has the ability to flip lanes should one direction be busier than the other.
The tolls for passenger vehicles are $4.25 per plaza. For motorists interested in an E-ZPass, click HERE.
Powered by
Distribution channels:

EIN Presswire does not exercise editorial control over third-party content provided, uploaded, published, or distributed by users of EIN Presswire. We are a distributor, not a publisher, of 3rd party content. Such content may contain the views, opinions, statements, offers, and other material of the respective users, suppliers, participants, or authors.
Submit your press release